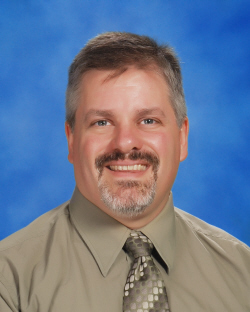 Students:
Class information may be found by following the appropriate links at the left. The MOODLE site contains downloadable copies of class notes and worksheets, an assignment calendar, and links to instructional videos and other reference materials available on the internet.
If you want, you can download a free electronic copy of my Physics Notes (PDF file). If you are interested in purchasing your own hardcopy, you can buy a paperback edition for $13.50 plus shipping.
---
Professional
I taught chemistry from 2003-2011, and physics starting in 2010. I currently teach physics at Lynn English High School. (Go Bulldogs!)
I am co-author of one of the labs in the new AP Chemistry lab manual. I am also an active participant in the Phys-L, PhysLrnr, ChemEd-L and AP-Chem email discussion groups.
Prior to teaching, I worked in the pharmaceutical and software industries.
---
Mini Biography
I was born in December 1964, which places me squarely on the cusp between the "baby boomers" and "generation X". I grew up in Corning, NY, where I graduated as salutatorian of Corning-Painted Post East High School in 1983. I earned two bachelor of science (S.B.) degrees from MIT, one in chemical engineering (1987) and one in biology (1988).
After college, I worked for five years as a chemical process engineer for Advanced Magnetics, and then eight years as a software engineer and operations manager for several startup companies. I started my teaching career in 2003.
I married my wife Nancy (a fellow MIT graduate) in 1996, and we went to Antarctica on our honeymoon. We have two daughters, Margaret (age 14), and Laura (age 11).
Interests
My primary interests outside of school are music and dance. I play viola with Symphony by the Sea and the New England Philharmonic and I sing with the North Cambridge Family Opera Company. I am the dance foreman (teacher) for two morris dance teams: Red Herring Morris, an adult team, and Banbury Cross Morris, a children's team (age 9 through high school). I have a wide range of other hobbies and interests as well, including caving, scuba diving, coffee roasting, locksmithing, LARPs/roleplaying games, bicycling, travel, amateur radio, camping & hiking, computers, photography, community theater, trains, skiing, and coins.
Twitter
I use the Twitter hashtag #biglerphysics for announcements and information relating to my physics classes. Students are welcome to use the hashtag as well (after all, no one can control who uses a hashtag), but please keep the tweets school-appropriate because they will show up here!